Well, unfortunately my first log was removed from SNOF during my year-long absence, so that sucks

(Had about 600-700 kills logged on that, twas epic)
So I present to you...
KIPPERS' TORMENTED DEMON LOG #2
This log was started on Oct 17, 2012. I've killed about 200 or so TDs since I came back but before this log, so those not be included (Did get 3 armour shards in that though, and 4 Effigies)
Gear:
(137 Stab/122 Str with Chaotic Rapier)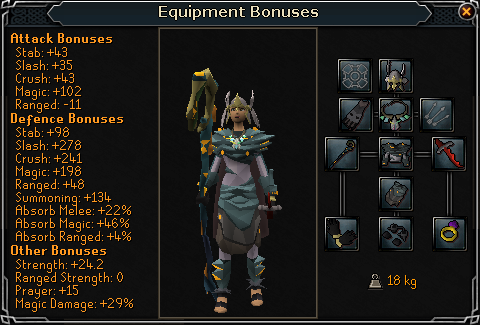 Helm of Neitiznot
Ardougne Cloak 4
Arcane Stream Necklace
Polypore Staff
Ganodermic Poncho
Dragon Defender
Ganodermic Leggings
Culinaromancer's Gloves 10
Boots of Subjugation
Ring of Wealth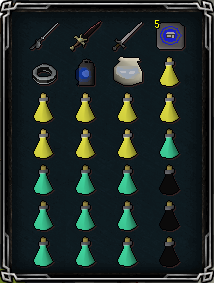 Chaotic Rapier
Darklight
Enhanced Excalibur
Teleport to House
Explorer's Ring 4
Sapphire Lantern
Geyser Titan Pouch
8x Saradomin Brew (4)
10x Prayer Potion (4)
3x Overload (4)
Note: They drop Infernal Ashes 100% of the time, so obviously I won't include those. They also drop charms in multiples of 3, so for simplicity I will just note the color.
TRIP 1
1. 29 Lava Runes, 3 Blue Charms, Hard Clue
2. 5 Diamonds, 3 Gold Charms
3. 4 diamonds, 3 Blue Charms
4. 4 Fire Talismans, 3 Green Charms
5. Adamant Battleaxe, 3 Green Charms
6. 5 Diamonds, 3 Green Charms
7. Herbs
8. Herbs, 3 Blue Charms
9. Seeds
10. 5 diamonds, 3 Green Charms
11. 24 Death Runes, 3 gold Charms
12. 27 Death Runes, 3 gold charms
13. Rune Mace, 3 gold Charms
14. 4 Fire Talismans, 3 Green charms
15. Adamant Battleaxe, 3 Gold charms
16. Rune Sq Shield, 3 Crimson charms
17. 8,387 Coins, 3 Gold Charms
18. 30 Lava Runes, 3 gold Charms
19. 45 Law Runes, 3 Blue Charms
20. 7,884 Coins, 3 Crimson charms
21. 4 diamonds, 3 Green charms
22. 4 diamonds, 3 Blue Charms
23. 8.988 Coins, 3 Blue Charms
24. Rune Mace, 3 gold charms
25. 26 Lava Runes, 3 blue Charms
26. Herbs, 3 Blue charms
27. 11 Sharks, 3 Crimson Charms
28. 8 Sharks,
29. 3 Fire Talismans, 3 Crimson Charms
TRIP 2
30. 31 Lava Runes, Blues
31. Rune Mace, Blues
32. 26 Lava Runes, Crimsons
33. 32 Lava runes, Golds
34. 4 diamonds, Blues
35. 9 Sharks, Crimsons
36. Herbs, Crimsons
37. 3 Fire Talismans, Blues
38. 27 Lava Runes, Golds
39. Seeds, Golds
40. Herbs, Greens
41. 30 Death Runes, Golds
42. 4 diamonds, Blues
43. Rune Sword, Crimsons
44. 24 Law runes, Golds
45. Seeds, Crimsons
46. 23 Death Runes, Greens
47. Adamant Battleaxe, Golds
48. Herbs, Golds
49. 4 diamonds, Greens
50. 5 Super Defense (3), Greens
51. 5 diamonds, Blues
52. 11 Bloods, Golds
53. 20 Law Runes, Golds
54. 3 Diamonds, Crimsons
55. 3 Super Defense (3), Crimsons
56. 5 Fire Talismans, Crimsons
57. Adamant Battleaxe, Crimsons
58. Rune Mace, Golds
59. Herbs, Golds
TRIP 3
60. Rune Mace, Blues
61. 3 Diamonds, Blues
62. 4 Adamant Bars, Crimsons
63. Ruined Dragon Armour Slice, Golds
64. Tooth Half of a Key, Blues
65. Rune Mace, Blues
66. Prayer Potion (3), Golds
67. Adamant Battleaxe, Blues
68. Prayer Potion (3)
69. Rune Sword, Blues
70. 3 Diamonds, Blues
71. 3 Adamant Bars, Greens
72. Rune Sword, Crimsons
73. Rune Helm, Blues
74. 5 Fire Talismans, Crimsons
75. 3 Super Defense (3), Blues
76. 30 Lava Runes, Crimsons
77. Herbs, Golds
78. 4 Super Defense (3), Crimsons
79. 26 Death Runes
80. Rune Sword, Crimsons
81. Seeds, Golds
82. 2 Super Defense (3), Crimsons
83. Rune Sword, Greens, Clue Scroll (hard)
84. 39 Death Runes, Crimsons
85. 6 Super Defense (3)
86. 4 Diamonds, Blues
87. Herbs, Blues
88. 22 Law Runes, Crimsons
89. Rune Chainbody, Crimsons
90. Seeds, Greens
91. 12,063 Coins, Blues
TRIP 4
92. Rune Mace, Blues
93. Herbs, Golds
94. Herbs, Golds
95. 8.030 Coins, Blues, Clue Scroll (hard)
96. 3 Super Defense (3), Golds
97. 9,943 Coins, crimsons
98. 5 Fire Talismans, Crimsons
99. 5 Fire Talismans, Crimsons
100. 33 Lava Runes, Golds
101. Rune Mace, Golds
102. Herbs
103. Rune Sword, Greens
104. Rune Sq Shield
105. Rune Sq Shield, Blues
106. 2 Super Defense (3), Blues
107. 2 Prayer Potion (3), Crimsons
108. 32 Lava Runes, Blues
109. Adamant Battleaxe, Greens
110. Adamant Battleaxe, Greens
111. Herbs, Greens
112. Herbs, Crimsons
113. 26 Law Runes, Golds
114. Seeds, Greens
115. Rune Mace, Blues
116. Rune Sword, Blues
117. Adamant Battleaxe, Blues
118. 27 Death Runes, Golds
119. Rune Sword, Greens
120. 19 Blood Runes
121. 33 Lava Runes, Golds
122. Adamant Battleaxe, Golds
123. Dragon Dagger, Golds
124. 3 Adamant Bars, Greens
125. 6 Super Defense (3), Golds
TRIP 5
126. 5 Adamant Bars, Crimsons
157. Rune Mace, Blues
128. 31 Lava Runes, Crimsons
129. Seeds, Blues
130. Rune Mace, Blues
131. 4 diamonds, Blues
132. Seeds, Blues
133. Seeds, Blues
134. 9 Sharks, Crimsons
135. Rune Mace
136. Rune Sword, Blues
137. 5 Adamant Bars, Blues
138. 5 Diamonds, Greens
139. Herbs, Blues
140. 30 Death runes, Golds
141. 4 diamonds, Blues
142. Adamant Battleaxe, Blues
143. Rune Mace, Golds
144. Adamant Battleaxe, Golds
145. Rune Sword, Golds
146. 20 Law Runes, Crimsons
147. 7.696 Coins, Crimsons
148. Seeds, Greens
149. 10 Sharks, Greens
150. 11,513 Coins, Blues
151. 11,885 Coins, Golds
152. Rune Mace, Greens
153. 23 Law Runes, Golds
154. 33 Death Runes, Blues
155. 5 Diamonds, Blues
156. Herbs, Greens
157. 12 Sharks, Blues
158. 3,000 Coins, Crimsons
159. 4 Diamonds, Blues
160. Rune Sword, Blues
TRIP 6
161. Adamant Battleaxe, Crimsons
162. Adamant Battleaxe, Golds
163. Rune Sq Shield, Blues
164. Herbs, Blues
165. 3 Diamonds, Blues
166. 11,609 Coins, Crimsons
167. Rune Mace, Golds
168. Loop Half of a Key, Blues
169. Rune Sq Shield, Blues
170. 9,385 Coins, Blues
171. Rune Sq Shield, Golds, Clue Scroll (Hard)
172. Rune Sword, Crimsons
173. Rune Sword
174. 4 Fire Talismans, Golds
175. 33 Death Runes, Blues
176. Herbs, Greens
177. 9,817 Coins
178. Adamant Battleaxe
179. 30 Death Runes, Crimsons
180. Rune Sq Shield, Golds
181. 4 Diamonds, Blues
182. Seeds, Greens
183. 3 Diamonds, Blues
184. 37 Death Runes, Blues
185. 10 Sharks, Golds
186. 4 Super Defense (3), Blues
187. 31 Lava Runes, Golds
188. Rune Sq Shield, Blues
189. 3 Super Defense (3), Blues
190. 23 Law Runes, Golds
191. 4 Super Defense (3), Golds
192. Rune Mace, Blues
193. 4 Adamant Bars, Greens
194. 9 Sharks, Golds
195. 3 Super Defense (3), Crimsons
196. 9,684 Coins, Blues
TRIP 7
197. Herbs, Crimsons
198. Adamant Battleaxe, Greens
199. 26 Lava Runes, Golds
200. 4 Diamonds, Blues
201. Adamant Battleaxe, Golds
202. Seeds
203. 24 Death Runes, Blues
204. Rune Mace, Blues
205. 30 Lava Runes, Blues
206. 32 Lava Runes, Blues
207. 5 Diamonds
208. Adamant Battleaxe
209. 31 Lava Runes, Blues
210. Rune Mace, Blues
211. 11,159 Coins, Blues
212. 2 Super Defense (3), Blues
213. 24 Law Runes, Golds
214. 4 Adamant Bars, Blues
215. Rune Mace, Greens
216. Seeds, Blues
217. Seeds, Golds
218. Rune Sword, Blues
219. Seeds, Blues
220. 5 Adamant Bars, Golds
221. Adamant Battleaxe, Golds
222. Adamant Battleaxe, Golds
223. 3 Diamonds, Crimsons
224. 20 Law Runes, Blues
225. 4 Diamonds, Crimsons
226. 3 Adamant Bars, Blues
227. Rune Mace, Crimsons
228. 5 Diamonds, Golds
229. 5 Diamonds, Golds
TRIP 8
230. 28 Law Runes, Blues
231. 11,864 Coins, Golds
232. Seeds, Golds
233. Rune Chainbody, Crimsons
234. 3 Adamant Bars, Blues
235. Adamant Battleaxe, Blues
236. 5 Diamonds, Blues
237. 7,978 Coins, Golds
238. 31 Lava Runes, Golds
239. 6 Super Defense (3)
240. 10 Sharks, Golds
241. 10,094 Coins, Blues
242. 19 Blood runes, Crimsons
243. 8 Sharks, Blues
244. Rune Sq Shield
245. 4 diamonds, Crimsons
246. Rune Sword, Blues
247. Rune Sword, Crimsons
248. Seeds, Crimsons
249. 26 Death Runes, Blues
250. 4 Adamant Bars, Greens
251. 24 Death Runes, Greens
252. Prayer Potion (3), Golds
253. 3 diamonds, Blues
254. Seeds, Blues
255. Rune Mace, Blues
256. Ruined Dragon Armour Slice, Crimsons
257. 11 Sharks, Blues
258. 9,888 Coins, Blues
259. 26 Death Runes, Greens
260. Rune Sword, Golds
261. 27 Lava Runes, Blues
262. Rune Sq Shield, Blues
263. 9 Sharks, Crimsons
264. Rune Sword, Blues
265. Herbs, Golds
266. 4 Diamonds, Blues
267. 4 Adamant Bars, Golds
268. Adamant Battleaxe, Blues
269. Rune Sword, Golds